Welcome to IPAC Southwestern Ontario!
Message from the President
Welcome to IPAC Southwestern Ontario (IPAC SWO) and to our chapter website!
My name is Cara-Lee Coghill and I am excited and privileged to represent our chapter as the IPAC SWO President for 2023 and 2024.
IPAC SWO chapter members represent a diverse group of IPAC professionals who work in a variety of fields in health care including hospitals, pre-hospital settings, long-term care and continuing care facilities, community care and health agencies, public health, government and industry.
IPAC SWO offers face-to face meetings, webinars and educational workshops to meet the educational needs of our members. In 2023, we are pleased to announce that we are planning on returning to in-person chapter meetings for our June meeting. Please continue to visit our website for chapter meeting details!
In addition to our chapter meetings and educational sessions, IPAC SWO is proud to offer:
The

Betty Bannerman Award of Excellence

that recognizes a chapter member who has made outstanding contributions to the practice of Infection Control

Scholarship funding for members to attend the Annual IPAC Canada National Conference

Support in preparing for Certification in Infection Prevention and Control (CIC)

Funding opportunities for IPAC Education, CIC certification and renewal

Education sessions and resources at quarterly chapter meetings

Opportunities to connect and IPAC professionals regionally and across Canada

Opportunities to increase awareness of current Infection Prevention and Control standards and practices

Support for your organization/facility for National Infection Control Week
To join IPAC-Canada and IPAC-SWO, visit IPAC-Canada and view this welcome brochure.
I welcome you to contact any member of the executive to find out what IPAC Canada has to offer.
Cara-Lee Coghill
2023-2024 IPAC SWO Chapter President
---
Quick Links
---
Upcoming Event
IPAC SWO Chapter Meeting and Education Session
Join us virtually for the next IPAC SWO Chapter Meeting and Education Sessions on November 23rd, 2023. Stay tuned for further detatils.
---
IPAC SWO News
---
Recording and Presentations from Educational Sessions Available in IPAC SWO Members Area
Did you know that IPAC SWO members have access to recordings of past virtual educational sessions and presentations from in person education sessions under IPAC SWO Education Session Presentation of secure IPAC SWO Members area. Check it out!
---
Call for Application Submissions for IPAC Education and CIC Attainment Funding Opportunity
Applications for the IPAC Education and CIC Attainment funding opportunity is now open. The deadline for application submissions for IPAC Education and CIC funding is December 1, 2023. For more information about this opportunity please visit the IPAC Education and CIC® Funding Terms and Conditions webpage.
---
CIC Recertification
It's that time of the year again. Recertification is now due for those who were certified in 2018. If you are recertifying through the continuing education process and require documentation of education sessions you participated in through IPAC SWO, please contact ipacswochapter@gmail.com.
The CBIC website contains excellent information to assist you through the process. You will find the following resources particularly helpful.
POSTED |
December 23, 2019
Recall of Sunflower Crisp Chopped Kit
Recalled due to E.coli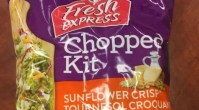 The Canadian Food Inspection Agency issued a recall for Sunflower Crisp Chopped Salad kit. The products were sold in PEI, New Brunswick, Newfoundland and Labrador, Nova Scotia, Ontario and Quebec. If you have this product at home CFIA recommends that the product be thrown out or returned to the store where it was purchased. See article for further details.