Welcome to IPAC Southwestern Ontario! Recipient of the 2021 3M Chapter Achievement Award
Message from the President
Welcome to IPAC SWO!
My name is Dori Taylor, the 2021-2022 IPAC SWO Chapter President.
I am excited to announce IPAC SWO's 40th anniversary this year. IPAC SWO has had many successes over the last 40 years and I look forward to working with the executive to continue with this tradition.
IPAC SWO members represent all health care sectors including Acute Care, Long-Term Care, Community Care, Public Health as well as Industry.
IPAC SWO offers face-to face meetings, webinars and educational workshops to meet the educational needs of our members. However, for 2021, our meetings will look slightly different in that our meetings and education sessions will be virtual. The executive is committed and planning to offer four virtual meetings this year.
IPAC SWO is proud to offer:
The Betty Bannerman Award of Excellence that recognizes a chapter member who has made outstanding contributions to the practice of Infection Control,
Scholarship funding for members to attend the Annual IPAC Canada National Conference.
I welcome you to contact any member of the executive to find out what IPAC Canada has to offer.
Dori Taylor
2021-2022 IPAC SWO Chapter President
---
Quick Links
---
2021 Terms of Reference Approved by National
IPAC SWO's 2021-22 Terms of reference was approved by IPAC Canada National. Thank you to the executive for all their hard work to revise the existing terms of reference for the the members for all your support and feedback.
Congratulations to New IPAC SWO Executive Members
On September 23rd, 2021, the following members were successful in attaining a position on the IPAC SWO executive starting January 1, 2021.
President Elect: Cara-Lee Coghill (1 Year Term followed by 2 Year Term as President)
Membership/Treasurer: Elaine Reddick (2 Year Term)
Education Co-Chair: Lesley Leach (2 Year Term)
The IPAC SWO executive is very excited to work with you and the membership is grateful for your dedication and commitment in volunteering to make this chapter the best it can be.
Upcoming Events
Next IPAC SWO Chapter Meeting and Education Day
The next IPAC SWO Chapter Meeting and Education Day is scheduled for November 18, 2021. Details of the meeting will be posted when available.
---
IPAC SWO News
IPAC SWO Awarded 3M Chapter Achievement Award
During the 2021 Annual General Meeting of IPAC Canada held virtually on May 20, 2021, IPAC Canada announced IPAC SWO as the successful chapter to be awarded the 3M Chapter Achievement Award. This award is presented to recognize a chapter's achievement in promoting infection prevention and control in the health care settings across the continuum. This is the second year that IPAC SWO has been fortunate to be recognized in this way. Dori Taylor, president of IPAC SWO accepted the award on behalf of the chapter. To view Dori's acceptance speech please click here. Congratulations to all the members of IPAC SWO.
IPAC Job Opportunities
Access Employment Opportunities section of IPAC Canada's website for current job postings across Canada.
To view other opportunities visit IPAC Canada's Employment Opportunity webpage.
Education Day Presentations
Did you know that you can access presentations from past education days here? Visit "IPAC SWO Chapter Meetings" on the right navigation bar to access these documents.
POSTED |
December 23, 2019
Recall of Sunflower Crisp Chopped Kit
Recalled due to E.coli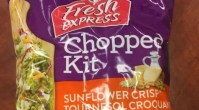 The Canadian Food Inspection Agency issued a recall for Sunflower Crisp Chopped Salad kit. The products were sold in PEI, New Brunswick, Newfoundland and Labrador, Nova Scotia, Ontario and Quebec. If you have this product at home CFIA recommends that the product be thrown out or returned to the store where it was purchased. See article for further details.