About IPAC SWO

History of IPAC SWO
In 1969, four hospitals formed a network called the Southwestern Ontario Exchange Meeting Program. In April of 1981, the network achieved chapter status and was called the Southwestern Ontario Practitioners in Infection Control (SOPIC). At that time there were 40 members of the chapter.
The name of the chapter has changed from SOPIC in 1981 to CHICA-SWO in 2008 and finally to Infection Prevention and Control- Southwestern Ontario (IPAC-SWO) in 2014.
In 2016, IPAC SWO turned 35. This milestone was recognized in a letter from IPAC Canada presented to Elaine Reddick who was at the time the IPAC SWO chapter president.
IPAC SWO now provides support to 192 members with geographic boundaries that spread to three LHIN regions. Our members represent all health care sectors including acute care, long term care, community care, public health and industry.
Presentation by Kathie McGhie RN, BScN, CIC, Chapter President 2001-2002
Purpose
To reduce the risk of infection across the care continuum through knowledge exchange, sharing experiences, ideas and information for the prevention and control of infections, and the collaboration and networking among persons interested in infection prevention and control (IPAC).
Objectives of IPAC SWO Chapter
To promote and enhance IPAC expertise through individual and group activities within South Western Ontario.
To assist individual members in the development of their own IPAC program within South Western Ontario.
To hold multi-disciplinary educational conferences or seminars to update knowledge in IPAC.
To support and assist with research/study activities and the publication of results.
To identify and compile IPAC measures that have proven effective in specific areas of concern, including evidence-based practice guidelines, recommendations, position statements, etc. that maintain safe, effective and quality care.
To promote communication with members of the healthcare team across the continuum of care.
To assist individual members in their professional development in the field of infection prevention & control.
To promote community awareness and understanding of the source of infection, the mode of transmission, and the means of control.
To act as an advocate for and increase awareness of IPAC practices and issues.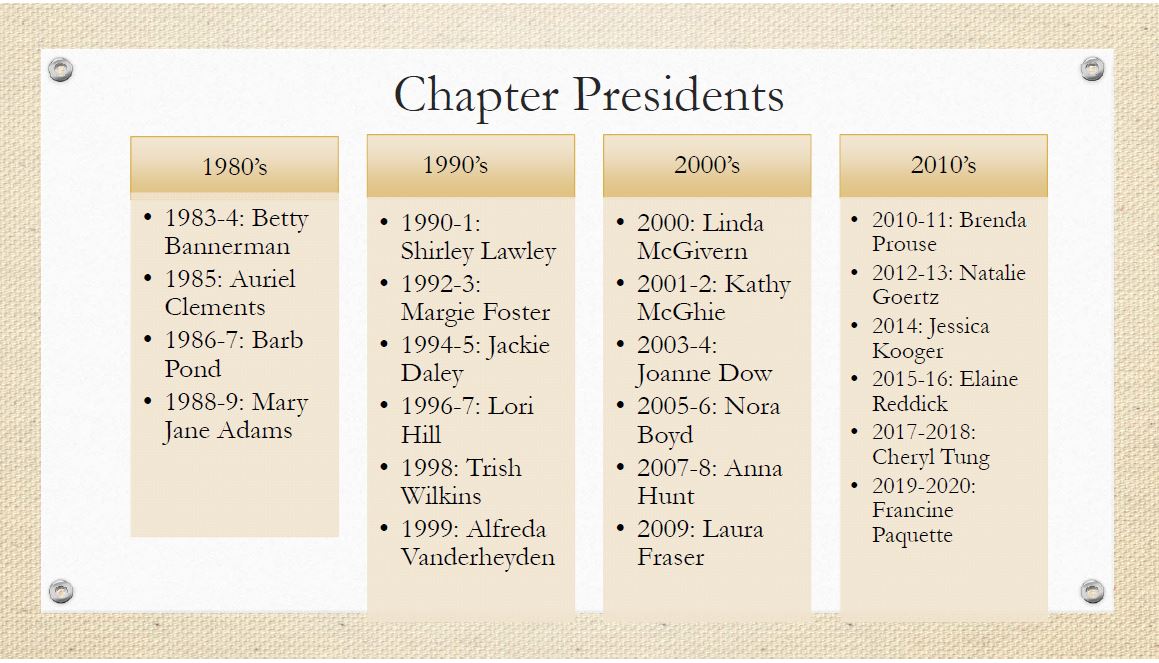 IPAC SWO President
2020's
2021-2023 Dori Taylor
Memories of the Past