IPAC Southwestern Ontario (IPAC SWO)
Welcome to IPAC Southwestern Ontario!
Message from the President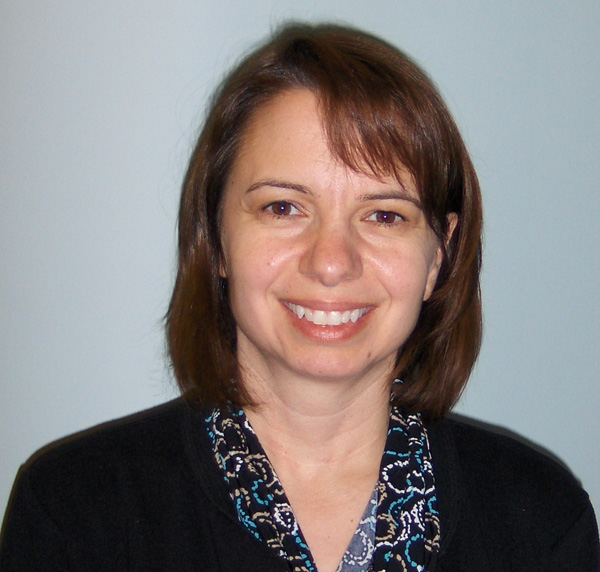 Welcome to IPAC SWO!
My name is Francine Paquette, 2019-2020 IPAC SWO Chapter President.
Our chapter has a rich history of supporting approximately 130 members with geographic boundaries that spread to three LHIN regions. Our members represent all health care sectors including acute care, long term care, community care, public health as well as industry.
IPAC SWO offers face-to face meetings, webinars and educational workshops to meet the educational needs of our members. Our meetings provide a forum for networking, education and collaboration and we invite you and your colleagues to join us as a member or as a guest.
IPAC SWO is proud to offer:
The Betty Bannerman Award of Excellence that recognizes a chapter member who has made outstanding contributions to the practice of Infection Control,
Scholarship funding for members to attend the Annual IPAC Canada National Conference.
I welcome you to contact any member of the executive to find out what IPAC Canada has to offer.
Francine Paquette
2019-2020 IPAC SWO Chapter President
---
Quick Links
---
IPAC Canada National Conference Funding Request
IPAC SWO members are invited to apply for IPAC-SWO Chapter funding to assist in attending the IPAC Canada National Conference. Those who are interested in submitting a funding request are asked to complete the on-line IPAC Canada National Conference Funding Request Form. This is a great opportunity and IPAC-SWO is proud to be able to support our members.
Upcoming Events
Registration is now open for IPAC SWO 2020 Infection Prevention and Control Education Day, April 24, 2020 in London, Ontario
CIC Prep Series
The IPAC SWO executive, IPAC HUPIC and Team IPAC-West of Public Health Ontario are offering a CIC prep series to support those interested in Certification in Infection Control. The series will begin on January 17,2020. The prep series is a 6-session webinar based series that covers content from sections of the CIC exam will be offered. The sessions will be facilitated by individuals who have Certified in Infection Control.
If you are interested in joining the CIC Preparatory Series, please contact the IPAC-West office at ipacwest@oahpp.ca with your name. Participation is not limited to geographical location and is open to anyone who are interested in CIC certification.
---
IPAC SWO News
Call for Applications for IPAC Canada National Conference Funding
The IPAC SWO Chapter has available funding to support IPAC SWO members in attending the IPAC Canada National Conference taking place on May 3-6 in Winnipeg, Manitoba. Those interested in financial support are invited to submit their application. The deadline for submission is noon March 31, 2020. To access the form please click here.
Past President Recognized for IPAC SWO Service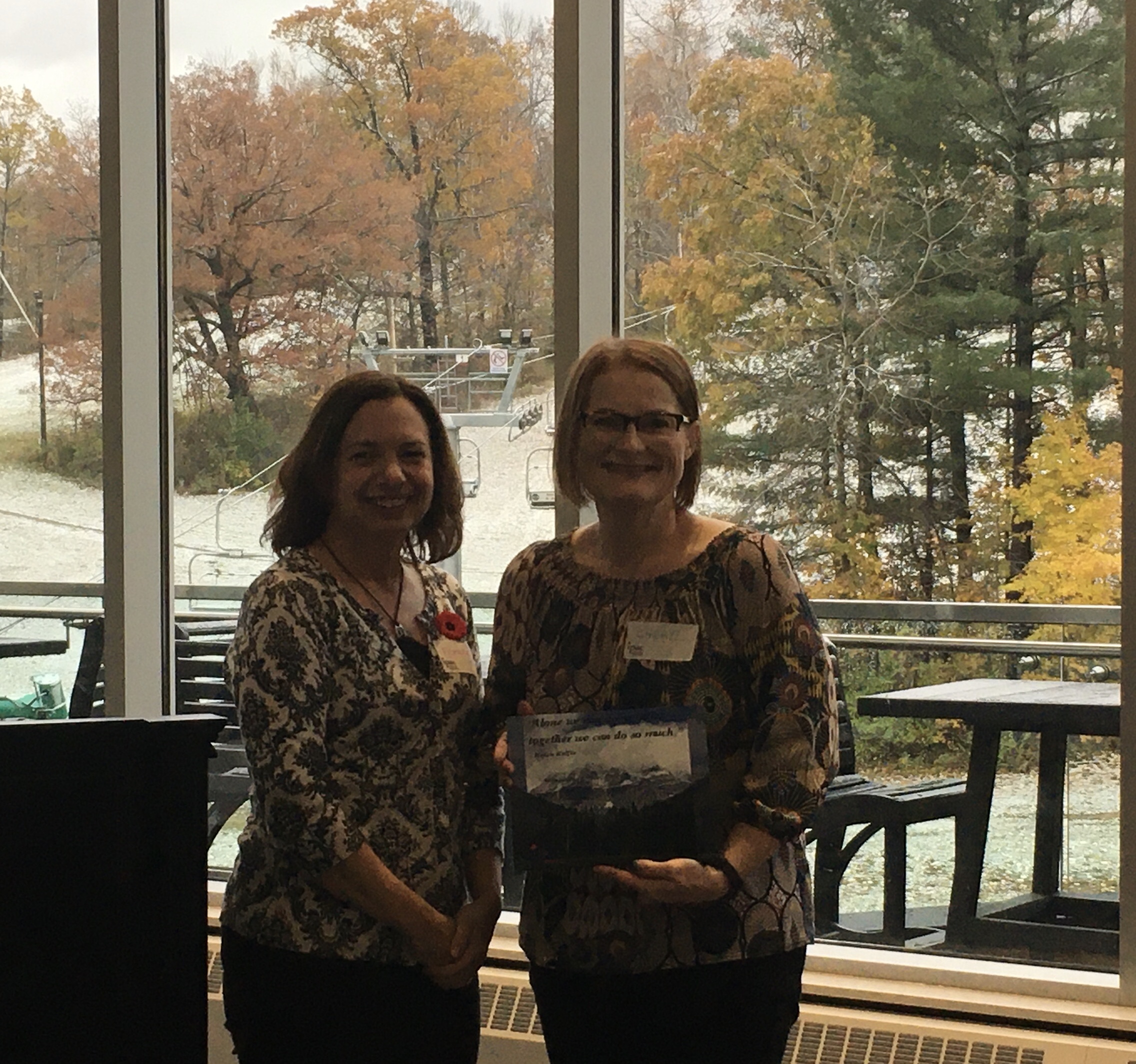 Cheryl Tung, past president of IPAC SWO was recognized for her work, dedication and contribution to the good of the chapter. At the November 1st, IPAC SWO Chapter Meeting and Education day, Francine Paquette, current IPAC SWO President, presented Cheryl with a plaque to commemorate her efforts. Congratulations Cheryl!
IPAC SWO Chapter wins the 2019 3M Chapter Achievement Award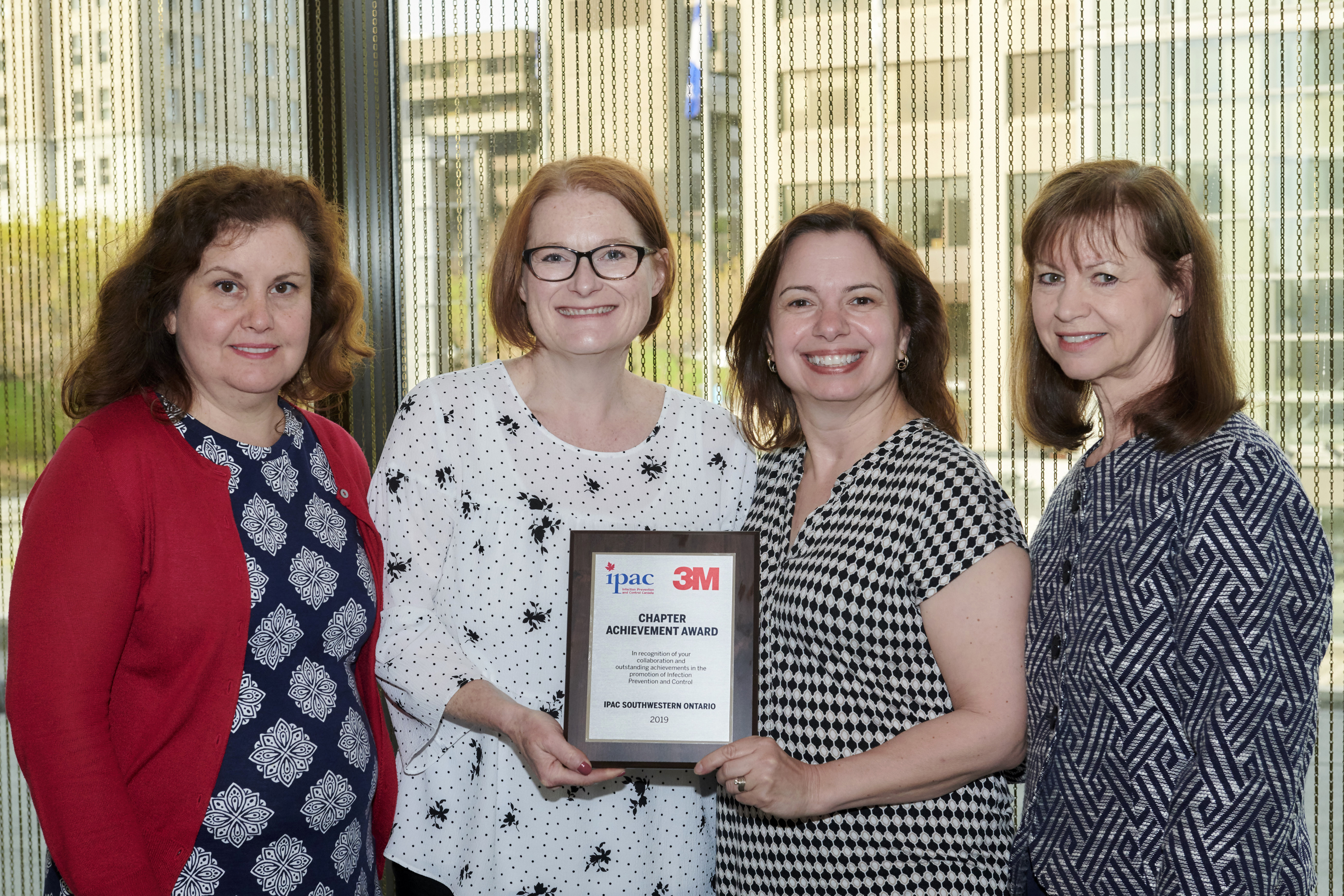 The 2019 3M Chapter Achievement award was awarded on May 28th at the IFIC/IPAC Canada 2019 Conjoint Conference in Quebec City to the IPAC SWO Chapter. The award was accepted by Francine Paquette, IPAC SWO President and Cheryl Tung, IPAC SWO Past President.
The award recognizes a Chapter's achievements in promoting infection prevention and control in the health care setting across the continuum. Congratulations to all of you who have made IPAC SWO a recognized and well respected chapter of IPAC Canada. See the IPAC SWO Chapter submission here.
Education Day Presentations
Did you know that you can access presentations from past education days here? Visit "IPAC SWO Chapter Meetings" on the right navigation bar to access these documents.