Betty Bannerman Award of Excellence
Background
| | |
| --- | --- |
| Betty Bannerman | The Betty Bannerrman Award is awarded on a yearly basis to recognize an IPAC-SWO member who has made outstanding contributions to the practice of Infection Control. |
---
The previous recipients of this award include:
2018 Award Winner - Brenda Prouse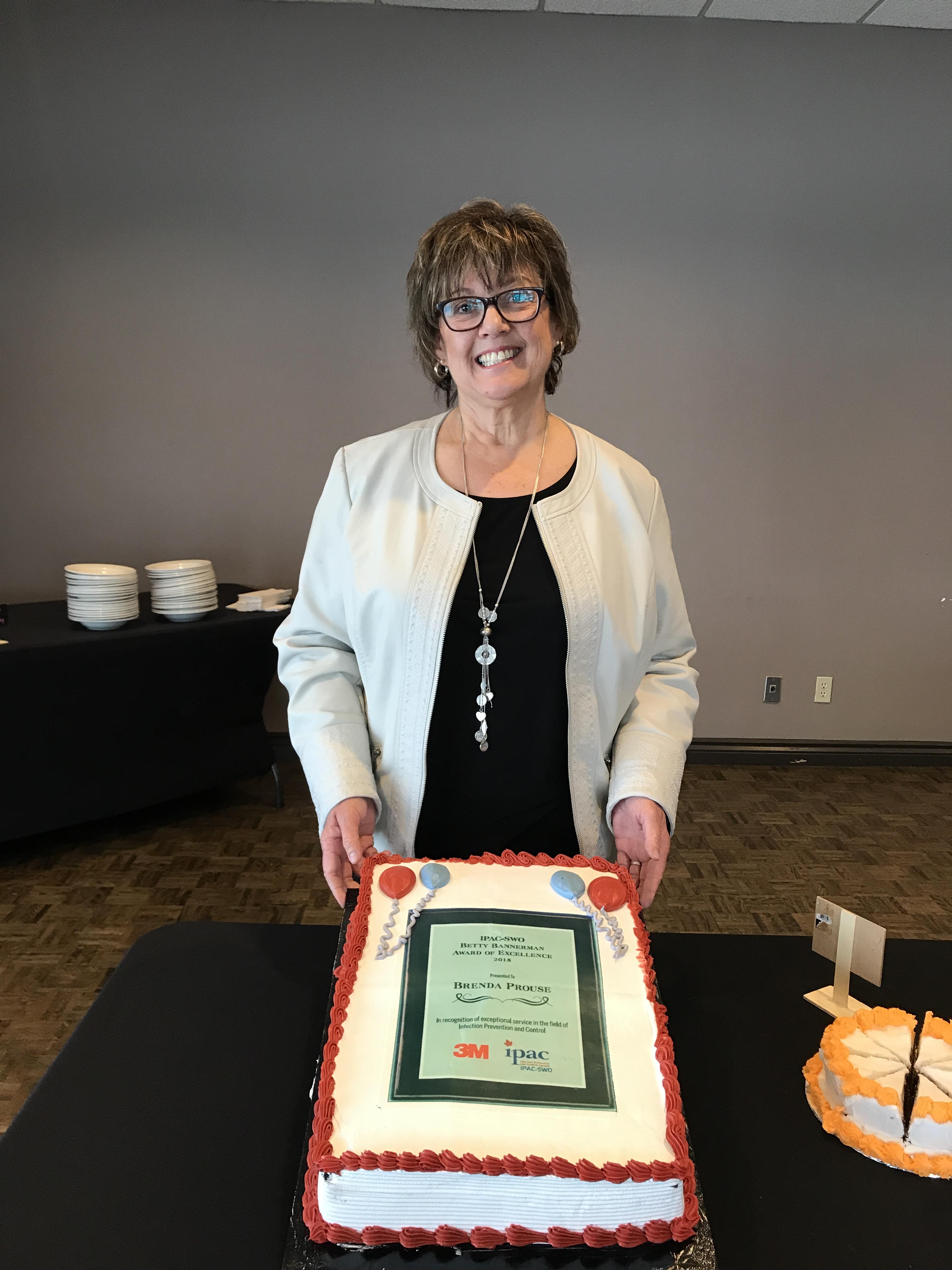 It is our honour to announce the 2018 Betty Bannerman Award winner is Brenda Prouse, ICP at Alexandra Hospital in Ingersoll.
The Betty Bannerman Award of Excellence is designed to recognize an IPAC SWO chapter member who has made outstanding contributions to the practice of Infection Prevention and Control. The Betty Bannerman Award of Excellence is generously sponsored by 3M Canada.
Brenda first received her Certification in Infection Control 2007 and continues to re-certify this credential. Brenda is a humble leader with an engaging manner that brings out the best in others. Her calm and supportive leadership style, her sense of humor, and her creative yet practical approach have been much appreciated by those who have been fortunate to have worked with her.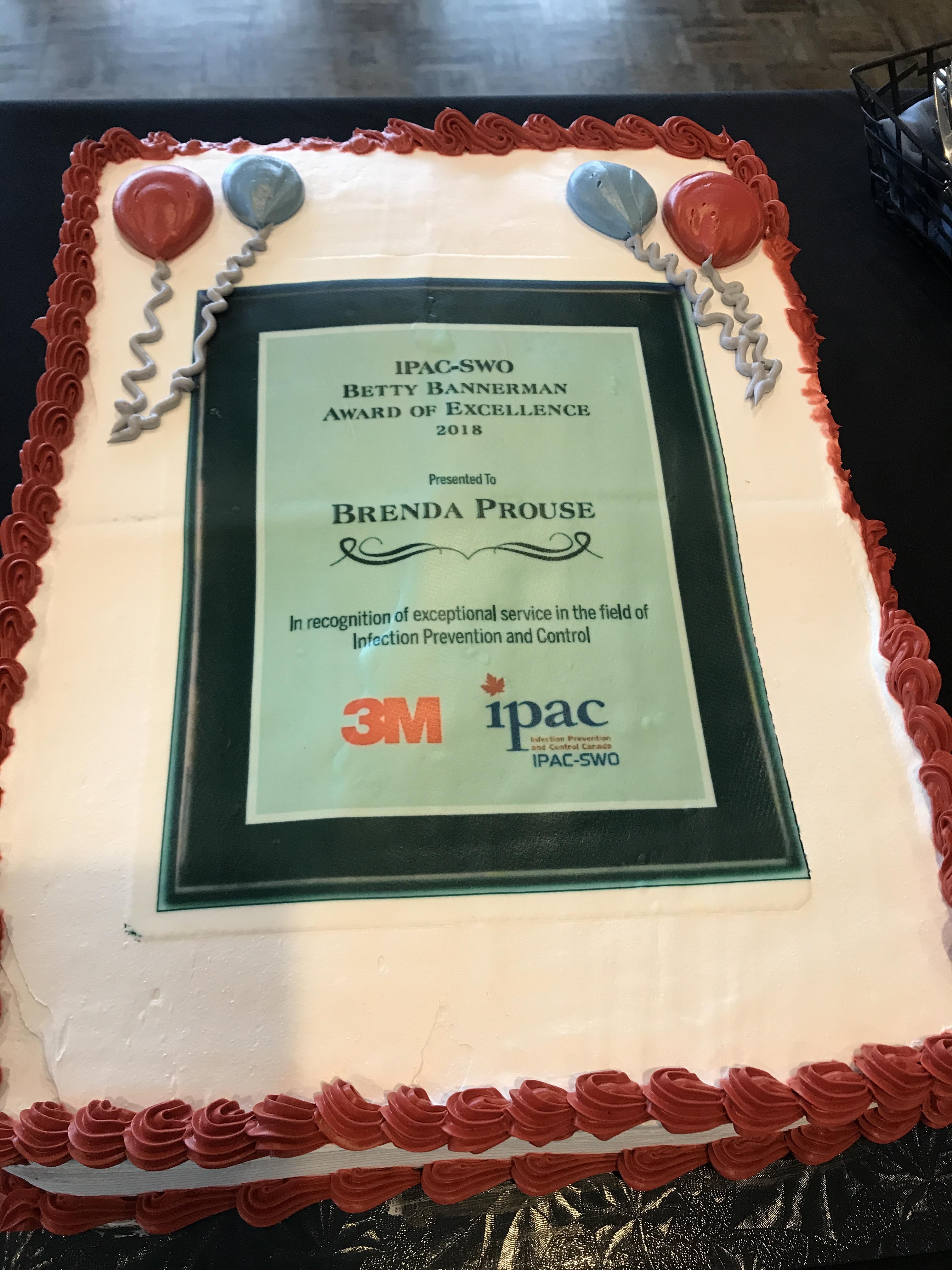 Since joining CHICA Canada in 2002, Brenda has demonstrated her commitment to the IPAC SWO chapter She has participated on the organizing committees of a number of large successful local conferences. At the 2018 National conference in Banff, Alberta, Brenda and her colleagues from Oxford County Public Health presented the poster: "Three Sputum Away from Freedom".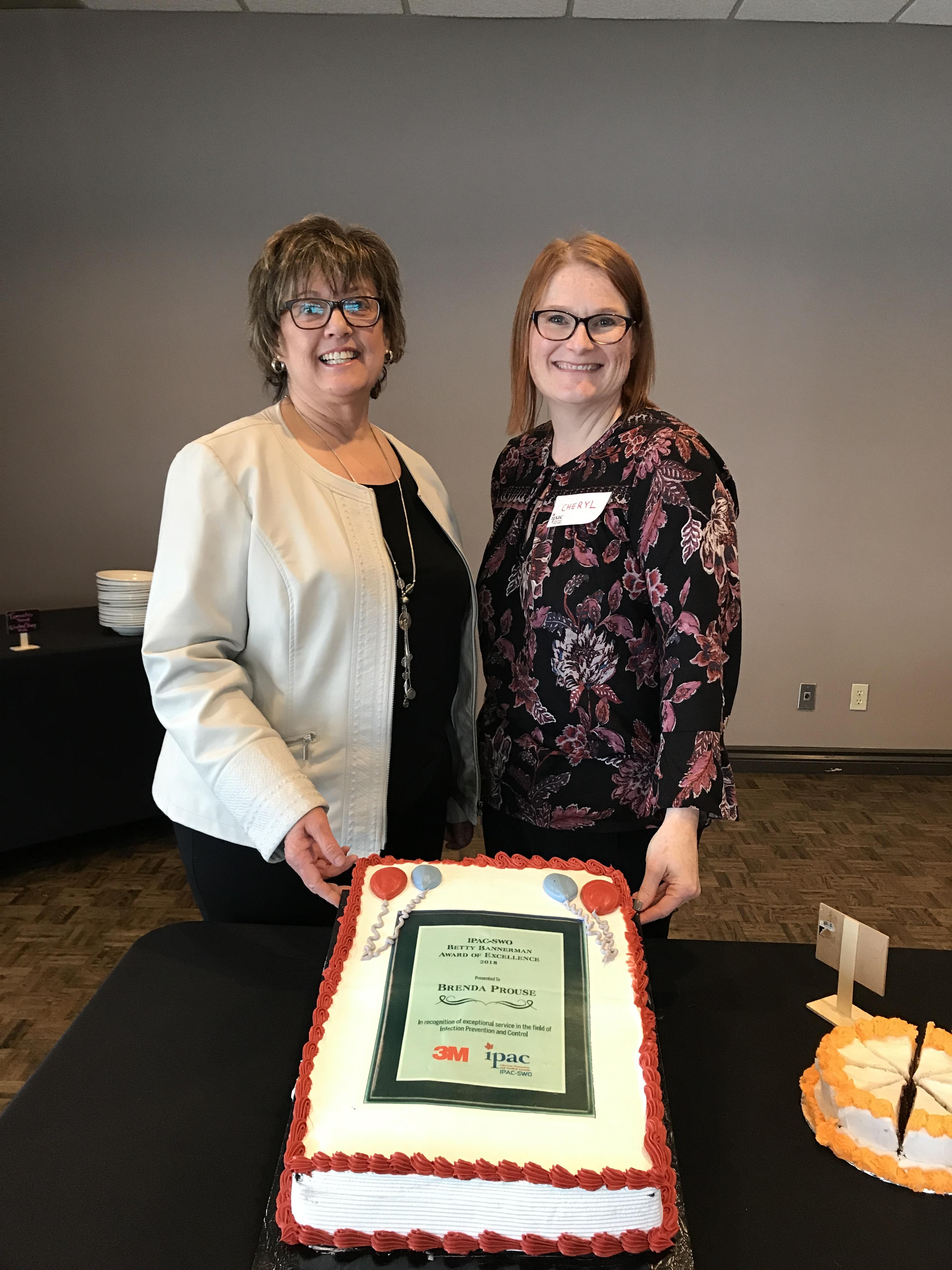 Within the IPAC SWO chapter ,Brenda has an extensive history of volunteering and assuming leadership roles. She has served as President-Elect, Chapter President, Education Co-Chair, Secretary and filled in when needed as Membership/Treasurer.
Brenda exemplifies the qualities of exceptional leadership, service and excellence in the field of infection prevention and control and is a worthy recipient of the IPAC SWO Betty Bannerman Award of Excellence.
2017 Award Winner - Rose Howie
Rose Howie was presented with the Betty Bannerman Award of Excellence by IPAC SWO President Cheryl Tung. Here are a few words about Rose and her inspiring contribution to Infection Prevention and Control.
Rose completed an MSc in Microbiology and Immunology at the University of Guelph; and a PhD in Medical Microbiology with a research focus in cleaning, disinfection and sterilization at the University of Manitoba. She has worked in industry, government and in the university setting.
Rose is an IPAC-SWO Chapter member and was CIC certified in 2013. Currently she is an Infection Control Professional at London Health Sciences Centre and has worked in Infection Control for eight years and as interim Manager, Environmental & Support Services.
As an ICP, Rose is committed to developing and implementing an environment and culture of safety based on science and best practice guidelines as evidenced in: creating partnerships with internal clinical leadership, staff and external organizations including peer facilities, MLHU, PHO, IPAC Canada; participating in and being co-leader for the LHSC Infection Safety Champion program; development of IPAC policies, protocols, and processes internally, city-wide and on national committees; serving as a consultant to Environmental Services and Medical Device Reprocessing to review current and novel cleaning/disinfectant products and technologies; establishing and standardizing cleaning and reprocessing protocols and developing an enhanced quality assurance program with structured, objective evaluation and ongoing monitoring by trained staff to: follow hospital hygiene trends and develop and disseminate sound evidence for continual quality improvement.
Whenever possible Rose has taken the opportunity to attend and present at Infection Control conferences including IPAC Canada, APIC and locally at IPAC-SWO.
Rosemarie is a researcher and the list of her research studies and projects is truly prolific. The list of her published peer reviewed IPAC articles highlights how important it is to gain and share groundbreaking information to fill gaps in IPAC knowledge. Her most recent research studies have emphasized the need for effective cleaning and disinfection in health care settings to prevent pathogen transmission.
Congratulations to Rosemarie Howie!
---
Message from Rose Howie to the Membership
Dear IPAC SWO executive and members,
I am extremely honoured and grateful to receive the IPAC SWO Betty Bannerman Award of Excellence. I am sorry that, for medical reasons, I was unable to attend the presentation.
Receiving this award is a humbling experience in the context of the great work that occurs within the IPAC SWO chapter by the Infection Control Professionals; and particularly in light of the passion, expertise and dedication to Infection Control by the past recipients of this award and the exceptional contributions to Infection Control by Betty Bannerman.
I would like to share four conditions that were instrumental in my journey as an Infection Control Professional (ICP) and that I believe are critical in this journey:
Enlightenment/ Awareness- I am beholden to those who took the time to introduce the concept of infection prevention and control (IPAC) to me. I was made aware of IPAC during my graduate studies by my adviser, Dr. Michelle Alfa, who helped me link scientific research and IPAC best practice recommendations.
Opportunity – I am indebted to those who extended opportunities to me to work in Infection Control. After my graduate studies I was inspired to take the IPAC course, which required an IPAC mentor. I called London Health Sciences Centre (LHSC) as an unknown entity and the IPAC Educator at the time, Kathy McGhie, kindly took on that role. That led to IPAC leadership taking a leap of faith and offering me a position as an ICP at LHSC. I am exceedingly grateful to them for the resultant opportunities; i.e., the ability to work with an amazing team and leaders and to contribute to Infection Control best practices.
Education- I am appreciative of those who provided professional information and personal insights, clarification and instruction throughout my journey. In this regard, I also want to thank IPAC SWO and IPAC Canada for continuing to educate, inspire and unite ICPs and facilitating a pertinent connection to resources and expertise.
Responsibility- I believe that it is our responsibility as ICPs to enlighten, inspire and educate those around us to encourage an environment and culture of safety based on science and best practice recommendations; to pass it forward and create opportunities for others to craft their unique paths in IPAC; and to build collaborative relationships internally and externally that provide opportunities to share and advance germane IPAC practices and resources.
We all do good work every day and it's been said that the reward for doing good work – is the opportunity to do more. I am truly grateful for that opportunity and proud to do so as a member of the IPAC SWO community. I sincerely want to thank the ICPs who kindly nominated me for this award, the IPAC SWO executive for this generous recognition, and 3M for their continuing commitment to support and advance Infection Control standards.
Thank you,
Rose Howie
---
2016 Award Winner - Joanne Dow
Joanne graduated with a BScN from the Faculty of Nursing at the University of Western Ontario (UWO) in 1973. Joanne has worked for the past 20 years on the Infectious Diseases Control Team at Middlesex-London Health Unit (MLHU). In her role, Joanne has specialized in the investigation of bacterial enteric reportable infections. She has extensive experience in the prevention and management of respiratory, gastroenteric and C. difficile outbreaks in long term care, acute care and community settings. Her contributions in the public health field include not only her work at the MLHU, but also involvement and at the provincial and national level.
Joanne was President of IPAC-South Western Ontario, formerly SOPIC, from 2002 to 2004 and championed a significant increase in IPAC SWO Chapter Membership across all sectors, resulting in Chapter's CHICA-Canada Award of Excellence in 2005. Her long history of support and involvement with various IPAC SWO and IPAC Canada committees and interest groups continues with her recent appointment as the Regional Representative to the new IPAC Canada Chapter Council.
Others have described Joanne as passionate about infection prevention and control; an eagle-eyed, dig-for- the-bone, thorough investigator with a talent for assessment and "hunches." She is a life-long learner. With her expertise and her kind and gentle manner, she is an educator, an advocate for her clients, and a mentor for her colleagues.
---
2015 Award Winner - Yasmine Chagla

Yasmine is recognized as a superior mentor in infection prevention and control. Her peers have recognized her for her passion and dedication and expertise to IPAC and to patient safety. Yasmine exudes all qualities of an effective leader through her ability to exemplify care, respect, and collaboration.
Our winner was the lead facilitator in the MRSA suppression protocol at her hospital and was successful in sustaining MRSA suppression in over forty percent of the patient population at the hospital. Furthermore she guided the hospital in implementing Clostridium difficile best practices with a noted reduction in nosocomial cases by 70 percent.
She tirelessly volunteers as evidenced by her dedication to helping those less fortunate in 2010, 2013 and 2014 using her vacation time to go to Africa to educate and support Infection Control practices.
Due to her selfless drive towards infection control without borders she was the first recipient of the Moira Walker Award by IPAC Canada.